Circadian lighting with f.lux
You already know that the light from screens can affect your sleep. Don't overlook the rest of the lights in your house.
By dimming and shutting off lights in your home, you can create an environment that's more friendly to sleep. You don't need to buy any special gear just to flip a switch at night, but if you are looking for a gradual, automatic change, here's how f.lux can run your lights.
This tutorial will cover using f.lux to run the Philips Hue White and Color Ambiance system on a Windows computer. Support for other lighting systems and macOS will be released in the future.
What you need
Right now, you'll need two things:
A Windows computer connected to the Internet
A Philips Hue White and Color Ambiance starter kit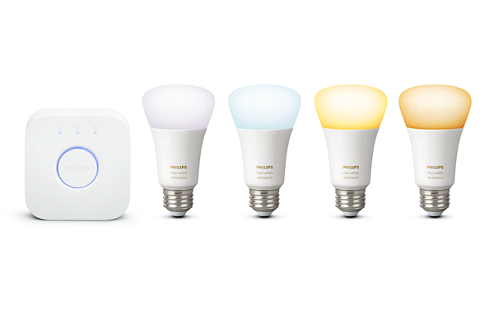 We are a participant in the Amazon Services LLC Associates Program, an affiliate advertising program designed to provide a means for us to earn fees by linking to Amazon.com and affiliated sites.
How to link f.lux with Hue
Use your mobile device to set up Hue according to the Hue instructions
Install f.lux for Windows
Open f.lux from the system tray by right clicking the f.lux icon
Click the menu called "Options and Smart Lighting…"
Make sure the "Control Philips Hue lights" box is checked.
Click "Done". Now it is time to pair with Hue.
Press the button on your Hue Bridge.
Your lights should change to match your current f.lux settings.
If there are some lights you don't want f.lux to run, look back in the f.lux menu for "Hue lights to use" and uncheck the ones you don't want to be controlled by f.lux.
For information about DIY home control and other discussions about smart lighting, please visit our forum.